"
Focused on solid and sound concept, our job is to provide your business or project with strong designs that will market your brand and product.
We thrive in solving problems and never stop refining our skills, growing in knowledge, and applying new techniques while discovering new trends.
"
ThatsGravy Designs, based out of San Diego, CA began as AndreRyanDesigns.com in 2003. We've done work for BasinWater, Marscot Marine, The Urban Education Fund and African Partnership Fund, Blackwood Internet, and Fantasy Football Starters. These works included: website design, logo and stationary designs, web layout and CMS, and web landing pages.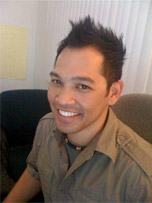 André Ryan Gravador, "Gravy", believes that hard work, strong work ethic and a desire for self-improvement is the driving force for success. Gravy worked as a Web & Graphic Design Tech Support Rep. for real estate agents at Z57 Internet Solutions. Through collaborative efforts, his team troubleshoot and offered custom designs to enhance templated websites. Modified layout design and custom graphic designs were applied and enhanced through the clients' Content Management System, modifyied the CSS, HTML, and exploring new web techniques and applyied them (jQuery, dropdown menus, slideshows).
Works include: Custom Home Pages, drop down menus, customized forms, photo collages, CSS and HTML modifications. Social media widgets were implemented to the clients' website along with videos. Gravy's experience in the office has branded him as a "resourceful and innovative problem-solver." Assistance and training was offered to the customer service department on a regular basis to make them more successful and knowledgeable. They have wonderfully named him: "Yoda", "BATMAN", "The Oracle" and 'My WEB GUY!"  HERE are a few web designs done for clients.
Depending on the project, new techniques and "trends" are applied as solutions to client requests. This includes JQUERY: slideshows and interactive menus.
Design is his passion, creating art day in and day out, providing technical support, and loving the diverse nature of life, health, culture and music, which is all around us.
Other works include website and graphic designs for local San Diego, CA musician, Chris Zach Music, music artist and writer Alyssa Jacey, San Diego Black Film Festival, FilmSD.org, Victor Willis (Village People), Poway Dental Arts, FRACTAL CHAOS, Mathewson Electric, to name a few. See more on our services page and our portfolio here!
View Design Work here.